Kinda seems that this is turning into a Lana Del Rey fansite (its not), but I'm one of those fans that go from 0 to 60 in the blink of an eye. I'm in full STAN mode.
Yesterday when I was at work (as always) Lana released the preorder for "Honeymoon," an instant gratification track titled "Terrance Loves You," and the album artwork.
Of course I preordered "Honeymoon" on iTunes because I don't want to be left in the dust when iTunes runs out of digital copies. Kidding. No, I preordered it so I could listen to "Terrance Loves You" obnoxiously loud in my car while tears stream down my face, roll onto my lips, then the salty tears roll into my mouth and satisfy my salt craving. So, I did that, then I got home and stared at Lana Del Rey's official store and pondered which other bundle I want to buy. I'm going with the vinyl. Why? Because its pretty.
Update: Urban Outfitters is selling the vinyl with an exclusive cover, a la Ultraviolence.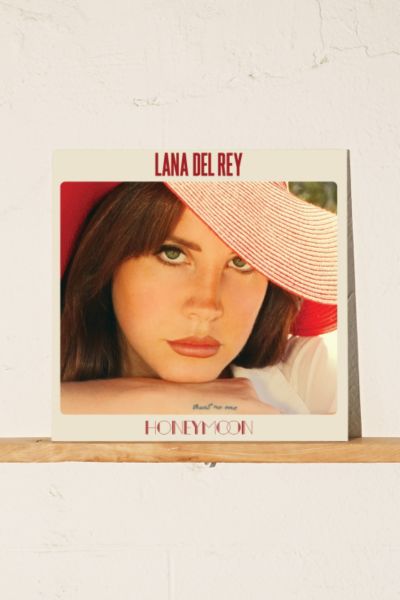 The instant gratification track "Terrance Loves You" that comes with the iTunes preorder is stunning. This is the material that I love from Lana. Lush, beautiful, over-the-top, and just, yeah. Although, the only disappointment I have with the preorder is that my greedy ass wanted to listen to the track "Honeymoon," but Mama-Lana decided to keep that 'greyed out' on iTunes for now.
The cover art for "Honeymoon" is actually pretty. If you're a Lana fan, then this should explain it; Vintage clips, Hollywood & Vine, Chateau Marmont, old Hollywood glamour, etc. This era's album visuals are a nice contrast to the deep, dark colors of Ultraviolence.
From what I'm gathering, there is no deluxe version of the album. So, that means no "Life is Beautiful" unless the title has been changed. Brb, I'm going to listen to the clip, with the dialogue from "The Age of Adaline" in the background, for a few hours.
Update: Lana just posted a video with "Terrance Loves You" playing in the background. The caption on the video explains the album cover: